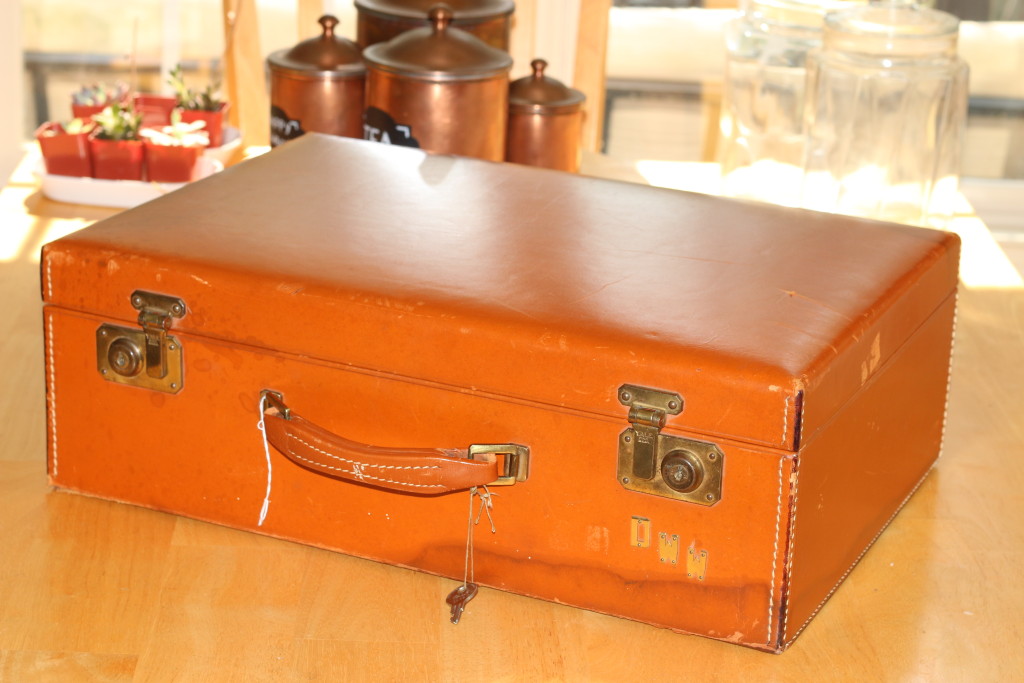 Yesterday I was out to visit one of our local craft & vintage markets. I was there mainly to see & say hello to a favorite jewelry maker, Must Love Tiaras, who is a frequent seller at this market. As I made my way along the stalls to find her I came upon one that had tons of dining room chairs but sitting on one chair among them all was a hard leather case filled with a pile of those, in my opinion, tacky porcelain knickknacks that I don't understand why anyone would want. I paused but moved on. Luckily my husband took a closer look. Bringing me back to it he shows me that it holds more interest than first look. It has a large fabric pocket with elastic on the inside lid with a leather strap to hold it in plus pockets along the insides. To top it off, unsnap two leather straps and the side with the handle folds down to reveal a compartment that holds cosmetics jars, vial, brush, comb, mirror, adjustable magnification mirror, scissors and nail file. (And a weird plastic brush which does not seem to really go with this set.) All with their own special slot to hold it in place. Sadly it is has three mysteriously empty spots and some water damage to the outside but I had to have it. With some haggling I obtained it plus some broken vintage & costume jewelry for $35.
I have done Google image searches with various words to try & find some more information on it but was unable to find another like it. Closest I came was to a company by the name Shortrip & another image that gives credit to a company by the name Oshkosh Leather. (Humorous to say the least due to my own connection to Oshkosh Wisconsin.) I am looking forward to learning more about this case and pondering a good use for it. Maybe even looking into making some vintage home beauty recipes for the jars & vials, like rose water & cold cream. The case is also monogrammed with brass letters of D.W.W. so I will either need to remove them or dream up something for it to stand for.
If you got any ideas or information leave a comment or shoot me a message via any of my social medias. I look forward to hearing from you.